As we all know, it's been an "interesting" snow season in New Zealand. And without doubt COVID-19 has contributed to that. In reality, the mountain most affected is Ruapehu, in part because of their more challenging operational environment, and partly also due to the proximity to a large and keen local market. Under Level 2, you can only visit the mountain if you have a car park booked, and these are released every Wednesday at 10am and 6pm for the following 7 days. Based on online feedback, it would appear they "sell out" in seconds on many days.
New Zealand was the first country to face a winter under COVID and substantial operational plans were developed. All in all, it appears to have gone well, albeit with considerably reduced numbers at some areas. North American is preparing for opening, and yesterday Vail released their plans for their 34 North American resorts. Sadly, there won't be (m)any Kiwis skiing Vail Resorts this season, but it's interesting to see their approach.
In a nutshell that is:
You must have a reservation to ski, and pass holders get priority. I am sure many season pass holders in NZ would also have liked to seen priority access this season, so this is an interesting move.
Physical distancing. Yep, we all get that.
Masks are Required. No mask, no access to the mountain. This includes loading and riding in chairlifts and gondolas; when inside all buildings; and during all ski and snowboard lessons. This is likely to be the most controversial requirement we'd expect, especially dependant maybe on which way you vote …
There's a lot more to it, but the key point is, they want to you to pre-purchase a pass product, rather than buying day tickets. Understandably, when you are running a big operation there needs to be more structure, and ironically this gives guests more certainty they can actually go skiing on the day they want. But the fall out from this could be interesting, and it may well be that many guests choose to ski their local area, rather than one of the big resorts. That's a good outcome too, the little guys definitely need some love in these strange times.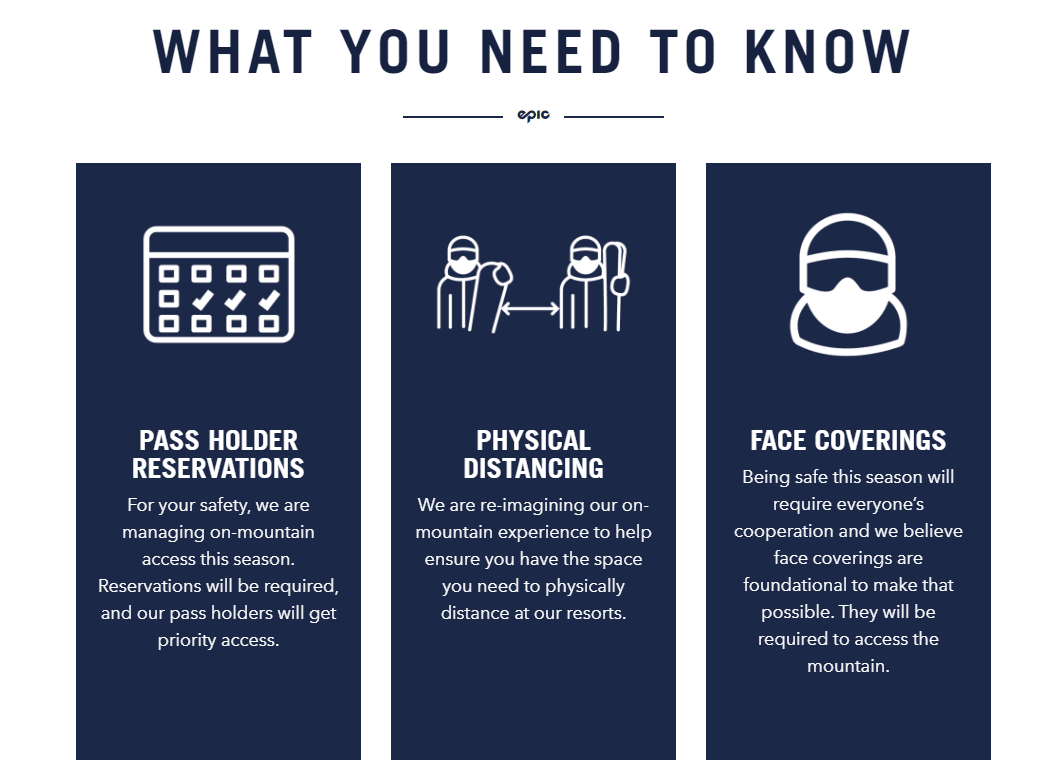 Read the full details here of Rob Katz letter to pass holders.