Well, it surely is spring time! The daffs are out, the lambs are playing and the weather is hot, cold, sunny, snowing, windy, and calm, all often in one day! But this is good for us! Longer days, fresh snow, then sunny days, but it does mean you have to pick your weather. Let's look at what was and what might be?
The week that was.
It was never going to be a big snow week last week, and that played out, despite last weeks "anomaly" (I think we got to about 9cm in Canterbury). And yep, there were warm temps yet many reports of some awesome spring skiing! Sadly however these was also some rain, so Rainbow is on hold until there is more snow. Mt Cheeseman opened on Saturday for the season, better late than never and great to see! And it sounds like there has been some great skiing at two other late openers, Craigieburn and Broken River.
Ruapehu also announced some good news, around parking of course … The first is that with lifts running at higher capacity (due to face coverings) they are releasing more parking i.e increasing mountain capacity. That will be a relief for many NI skiers and riders. And secondly, once we move to Level 1 (please please soon!) bookable parking will revert to weekends only again.
So, remember also that while we are still at Level 2, face masks MUST be worn when riding lifts with passengers outside your bubble at ALL areas in NZ. If we don't there's a risk we go back to "bubbles only" which restricts ski area capacity again ... and we don't want that!
Opening (and closing) soon
I think we're past all the openings, unfortunately, for the season. Temple Basin as we reported last week has elected not to open, and Olympus, still no word. But, closings are imminent. Roundhill closes this Sunday the 13th, which is about usual for them. Treble cone, great news (!), now open for another week, scheduled closing now Sunday Sept 20th. And sadly, Craigieburn after opening, then closing, then opening again last weekend, is closing this Sunday for the season. Well done for the effort in a challenging season!
Weather
We had some positive feedback on last week's new weather format, so we're giving it another go this week. We want to be clear, it's not definitive and it's averaged over a region, so it's still best to check individual snow reports, but we think it's a reasonable guide (as to which days to take off work!) Worth noting also, two areas in the country don't fit that well into the regional equation, those two are Treble Cone and Ohau, as they are further west and subject to slightly different weather patterns, so definitely check these independently (expect more snow in these NW systems)! And remember that the "best days" are somewhat subjective, please do use this information to make your own judgement. Please also tell us what you think!




More on Weather ...
Weather in NZ is notoriously challenging. We're a small island in the middle of nearly nowhere and many storms come up from the southern ocean where simply, there is less data to draw from. Weather data is then "fed into a computer" and (simplistically) the results are output against various models, the two big ones are GFS (American) and the other ECMWF (European). Local providers, let's say MetService, then mix local data in with this, to derive a more accurate "local" forecast. Some providers, let's say CWU in Canterbury, interpret manually the data and derive theoretically more accurate forecasts. The reality is, that in many weather events, there is significant variation in the forecast. Like for example, Mt Hutt next Wednesday, as predicted at 5pm this Thursday. Sure, 6 days away so it's tough, but check out the variation! We'll check in next week how it's gone! We literally have "severe nor-west gales" (read: won't be open) to "not much wind" (read: will be a great day). Weird eh!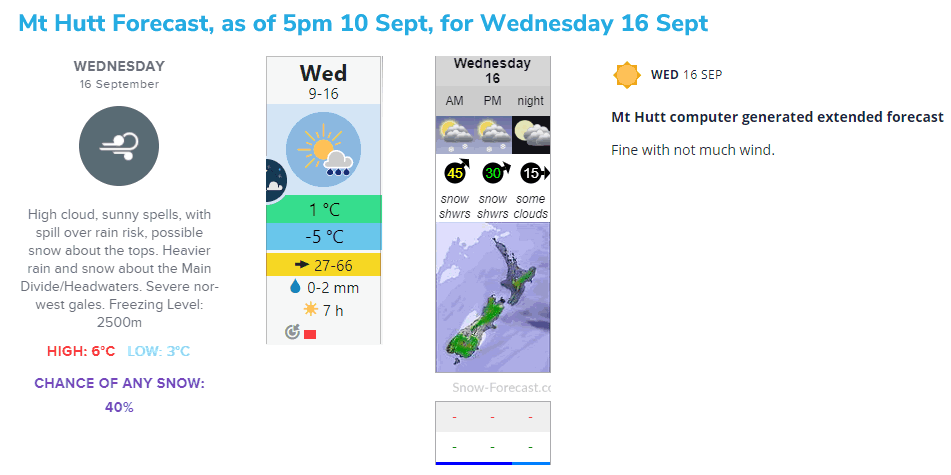 Industry News
It's been a tough year for most ski areas, lower than usual snow, and of course, a global pandemic thing. But, we've heard a rumour of some good news for 2021 which hopefully we can reveal soon!
And we've had the occasional question as to why no Tukino report? There's some "history" and a few years ago Tukino opted out of a presence on our site. This year that changed and they are keen to come on board, but there is a cost and neither they nor ourselves could make it work this season, you know COVID finances and all! But next season we're committed to having them on our site and our app.
Deal of the Week …
Goes to Mt Cheeseman. Not that you can buy it, but after only opening last week they have elected to auto-extend their 2020 Member passes, Season passes, Newbie Deals, pre-purchased lift passes and GrabOne vouchers to 2021. Wow, kudos to their team, that surely is a stellar deal!
That's it. Right now as you might have seen, it's SNOWING at many areas. Tomorrow could be good, and it's great to see more snow. Saturday could be a busy day!