The school holidays are nearly here, and as we write this, it's snowing in many parts of the country. Expect more ski area openings, and more terrain. Woohoo!
Last week we missed our update, we figured that closer to the holidays, and the snow, would be more useful. So, let's check out what's been going on.
The week that was …
The weather has been a bit up and down, and little slow on the snow front, but down south Cardrona and Coronet Peak picked up around 10-20cm, enough to get the main lift(s) spinning which was great news. And with cold temps, you could imagine the snow makers were cranking hard! Even Treble Cone managed to kick off with a single trail in the last few days which was great to see, even better is today's weather!
So down South then, we've got all the main ski areas open, some currently (today) with limited facilities and lifts, but that's all about to change. The Remarkables has the most terrain open currently.
Further north in the Mackenzie, we've now got all areas open also. Mt Dobson and Roundhill are packed with snow, Ohau is coming along, and again, this current storm is going to deliver for them.
In Canterbury, Hutt is tricking along, skiing very well we hear, and managing the crowds well with the new lift. Still a bit tough for the rest of Canterbury, including Porters, but maybe this storm will get them over the line. Rainbow is also getting close.
Right up north, it's been a similar situation for Turoa and Whakapapa, not a ton of natural snow, but lots of snow making. Beginner facilities are open. And our friends at Manganui opened briefly also which was great to hear. We'll have to get them to update their report!
Opening Soon
Well, we've almost covered that. Turoa and Whakapapa will be opening as snow making, or natural snow allows. Can't be too far away now and fingers crossed they get some terrain open for the holidays.
Canterbury, as we said, Porters and the Clubbies should be open soon hopefully especially if this storm delivers.
And then down south, it's not so much areas opening, but opening areas … With luck we'll see Whitestar and Captains open at Cardrona soon, and Treble Cone, well, the snow is coming so who knows what they might get open!
With the holidays upon us, all the ski areas, aside from probably Mt Hutt, Dobson and Roundhill, need a little more snow, either to open more terrain, or get open. But, things might change, and then it gets cold …
Weather Ahead
And cold it is going to get, after the snow that is currently being delivered. The Southern Lakes are being dumped on this afternoon and tonight (July 6) and tomorrow it moves north into Canterbury. So in the South Island, NW turning SW tomorrow, bringing snow down South mostly, but spilling over into Canterbury. Let's hope it's more than forecast, that can happen in these systems. And then it fines up, looking particularly good from Thursday onwards for all the South, but, expect some pretty cold temperatures.
Ruapehu is a little trickier. Light snow and poor weather for the next few days, but possibly not a lot of snow. Again, time will tell! But it will be cold and the snow making will be turning it out, so keep an eye on the report, we'd be expecting to see some lift openings.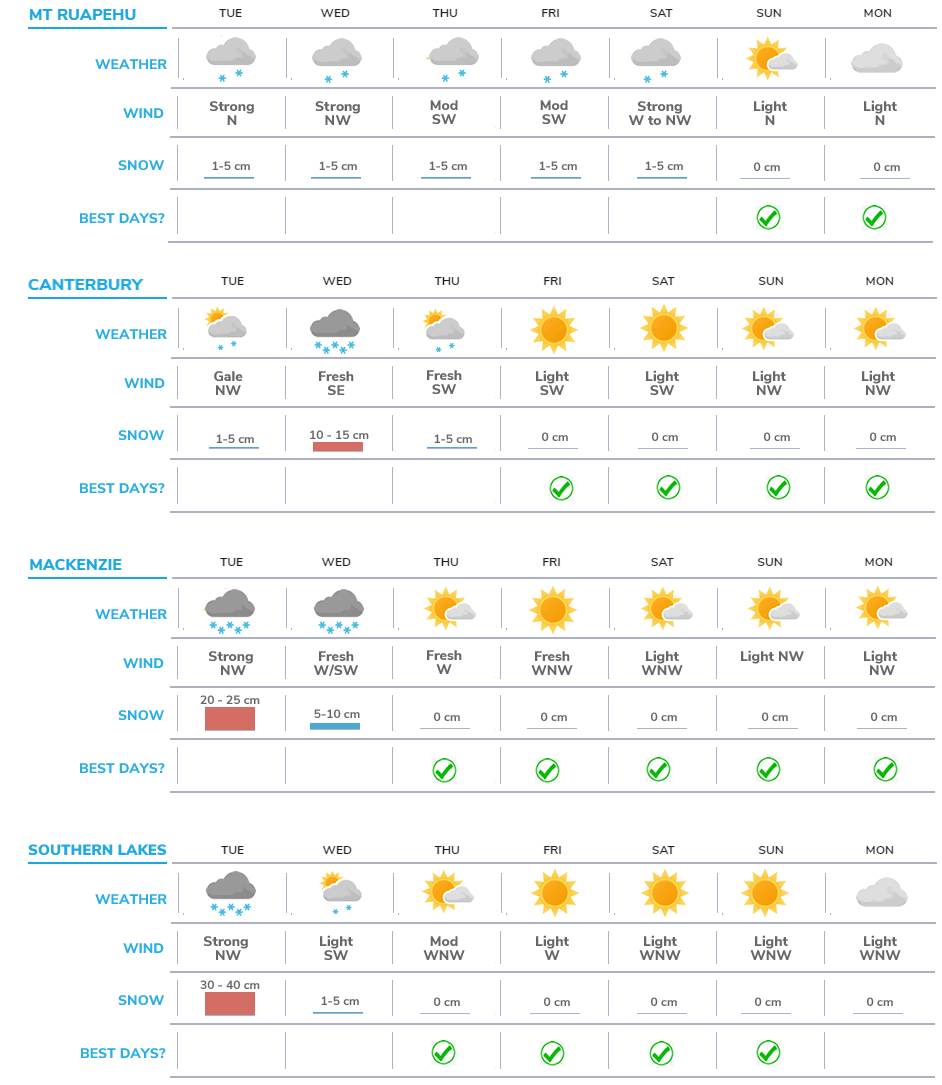 Our pick for the week will probably be the Mackenzie, especially if the promised snow comes, because then we've a got a series of stunning days ahead, just in time to get a few turns in before the holidays! And longer term, start thinking snow again mid-school holidays.
Ski Area News
We see that Fox Peak is underway with their road repairs, you can still donate. And Mt Olympus is now 3 weeks into their road repair, no news yet but expect to see both open soon we'd expect. Awesome
That's it for the week. Should be some good skiing and riding after this storm and hopefully it sets many areas up for a great start to the holidays. Fingers crossed it delivers!