The second week of the school holidays is looming, and so is some snow which is great news! In the past week we've had some lift and terrain openings, but we're still waiting for a few areas to get over the line. Let's check it out.
The week that was …
Mt Ruapehu needs a fair amount of snow to open, but the good news is that it's been dribbling in over the past few days, and assisted by snow making they are making progress. The Rangitira at Whakapapa is now open, and the Rockgarden is your trail. Over at Turoa, obviously a stellar snow making and grooming effort has allowed them to open the Parklane, Movenpick and the Giant, with a handful of trails open.
Rainbow Ski Area is now open with the beginners/intermediate area and to tower 8 on the T bar.
In Canterbury the weather has been cold and clear, great news for Mt Hutt, Porters is now has their learners area and chair open, less great for the Clubbies, we'll get to that soon. Pretty good in the Mackenzie to, with Mt Dobson, Roundhill and Ohau all with decent conditions and top to bottom skiing and riding.
Further South, things have picked up too. Treble Cone, after a slow start now has the Saddle open, and Cardrona has opened Captains, and has now a limited opening of Valley View trails (remember it didn't open last year) for people to ski out. Coronet Peak and The Remarkables have got all lifts open and with cold temps, you can be sure there's tons of snow pouring out.
And if you live in, or are visiting Canterbury, the very very cool experience of ice skating on an outdoor pond at Staverly (near Mt Hutt) is open! It's very weather dependant, so check their Facebook page.
Given it's busy, with school holidays, remember that all the larger ski areas are managing car parking. Two people or less in a car will typically be getting a lower car park. So take your mates, pick up a hitchhiker and help make skiing more accessible for everyone.
Opening Soon
Sadly, it's the Clubbies struggling again, specifically in Canterbury, but others as well. Many have delayed openings so let's hope the storm that is coming delivers more snow than rain for them!
Weather Ahead
Talking of storms, we've had snow across many areas today and more is on the way. So, rain aside, we should start seeing some base accumulation and improvement in snow conditions.
Unfortunately there's a big NW flow associated with it, which means potentially precipitation on Saturday, possibly quite a bit, before the snow. But the systems are very messy so let's hope it's more cold than warm. The good news is that we've got more storms coming through, so we'd like to think there's going to be more consistent snow on the way.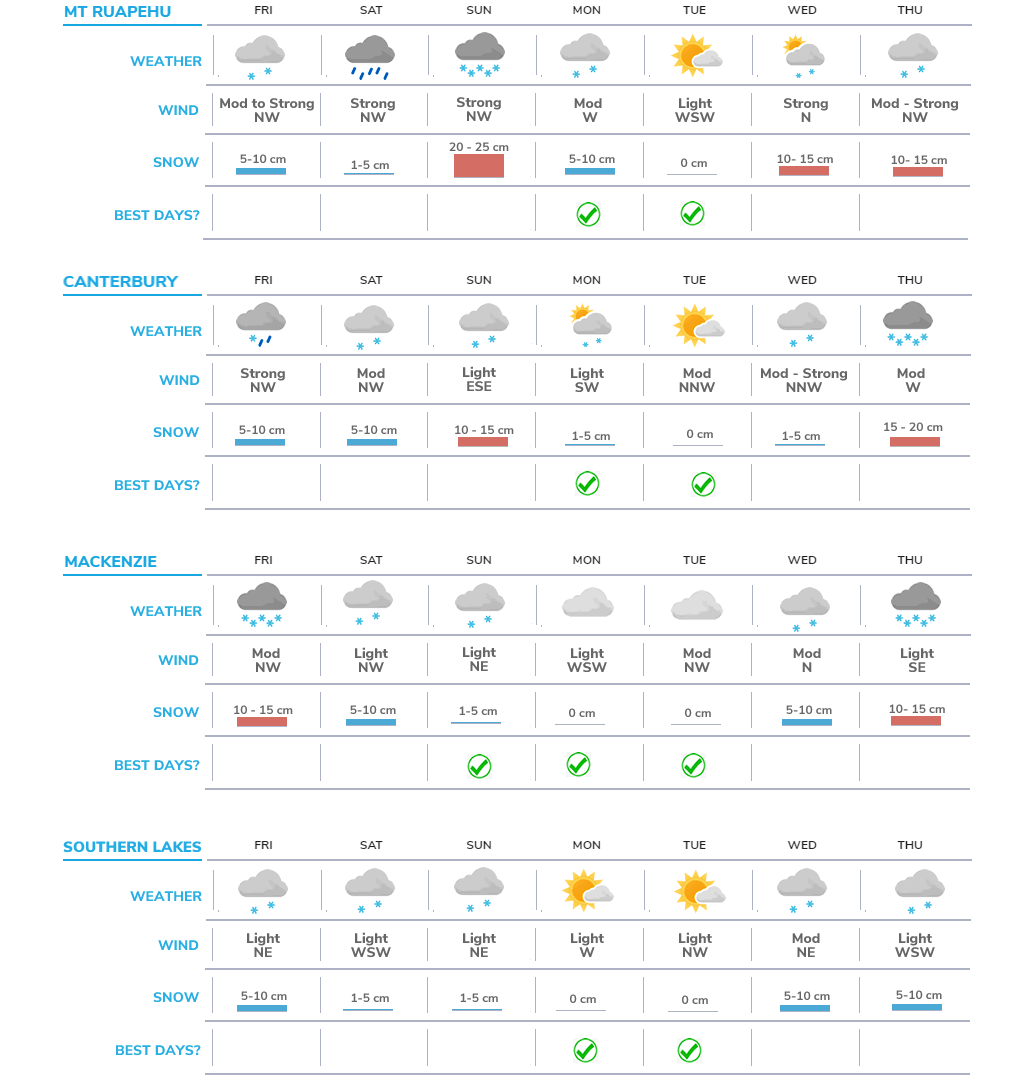 That's it for the week. We hope to report some good snowfalls in our next update and fingers crossed our Clubbie friends get an opening window soon!