The school holidays are all but over, and next week is traditionally one of the quietest of the year, and best! No crowds, and a bit of fresh snow is on the way!
The week that was …
As anticipated there was a mix bag of weather this week, with powder days, as well as bluebird days for those on holiday! all those on holiday. Sadly, the heavy rain in the South Island had an impact, quite a big one on some areas, washing out roads at Rainbow, Cheeseman, Craigieburn and Broken River. Rainbow is now sorted and open again, the others are work in progress, we're waiting on announcements, and snow.
Up north at Ruapehu, the snow is gradually accumulating, and while Whakapapa still only has the Rangatira open for skiing and riding, we hear the upper mountain is getting closer. Turoa is closed today and picking up some fresh snow, fingers crossed we'll see some more trail openings there also!
Mt Lyford opened this week, they have managed to open learners, half the platter and the Cloudy T-bar and with more snow today they are hoping to open a little.
Good news also from Fox Peak and Broken River, both raised a good amount of money to help fix their roads after the first floods and they are well on the way! In fact Fox Peak just issued a "Stay tuned peeps" message, impending opening?
Talking of roads, one thing we've seen a bit of this week in Canterbury, road and carpark closures due to large numbers of visitors! We're used to that occasionally at some of the larger areas, but even Mt Dobson closed their road this week, and Roundhill had a 1 in/1 out system. Great to see so many people keen to get on skis and boards, and now holidays are all but over this should become less of an issue.
We haven't heard of Ohau closing their road, but we have heard that they had 25cm a day or two ago, and Mike says "We have a fantastic cover and freshies, it's like Ohau in the 80's and early 2,000s". We're planning a trip there soon!
Opening Soon
Up at Ruapehu, the base is building at Tukino and it looks like they will be opening this Saturday, weather permitting. We know, we need to get their report on the site! Across at Manganui they are waiting on more snow, so it might be some time yet.
We mentioned that Rainbow is open again, good work repairing the road! They have a limited opening, pending more snow, and have the Beginners Area and to Tower 4 on the T- bar open.
Porters also has limited terrain open, just the chair and beginners, however they did open the upper lifts for 4 hours this week, with a race by foot to the lifts. We hope the pow was worth it! We also hope they are getting some snow to get those lifts open.
Onto all the Clubbies in Canterbury … Hanmer Springs, Temple Basin, Broken River, Craigieburn, Cheeseman, and Mt Olympus. Currently all closed, either due to more snow required, or ongoing road repairs, or both. Fingers crossed for them, and once they do get open, head on up and support them, they need it! We'll keep an eye on their updates.
Further South, all is good. Mt Hutt is looking good, Dobson is looking amazing (heading there Saturday), as is Roundhill and Ohau. They probably have the pick of the snow in the country right now! Southern Lakes is getting by, in fact Treble Cone is looking pretty good as is the on trail skiing at The Remarkables.
Weather Ahead
The weather is pretty cut and dried this week, explained really well by Phillip Duncan from Weatherwatch. Warmer northerlies, which does translate to snow for some areas, just not as much as we'd like …
Ruapehu picks up most of the weather, some rain and snow particularly on Monday and Tuesday and then improves later in the week. Should be good later next week for a couple of sneaky days in the fresh snow.
In the South, pretty much clear and calm Friday and Saturday, our picks for the week, then the weather comes in Sunday, lasting until Tuesday.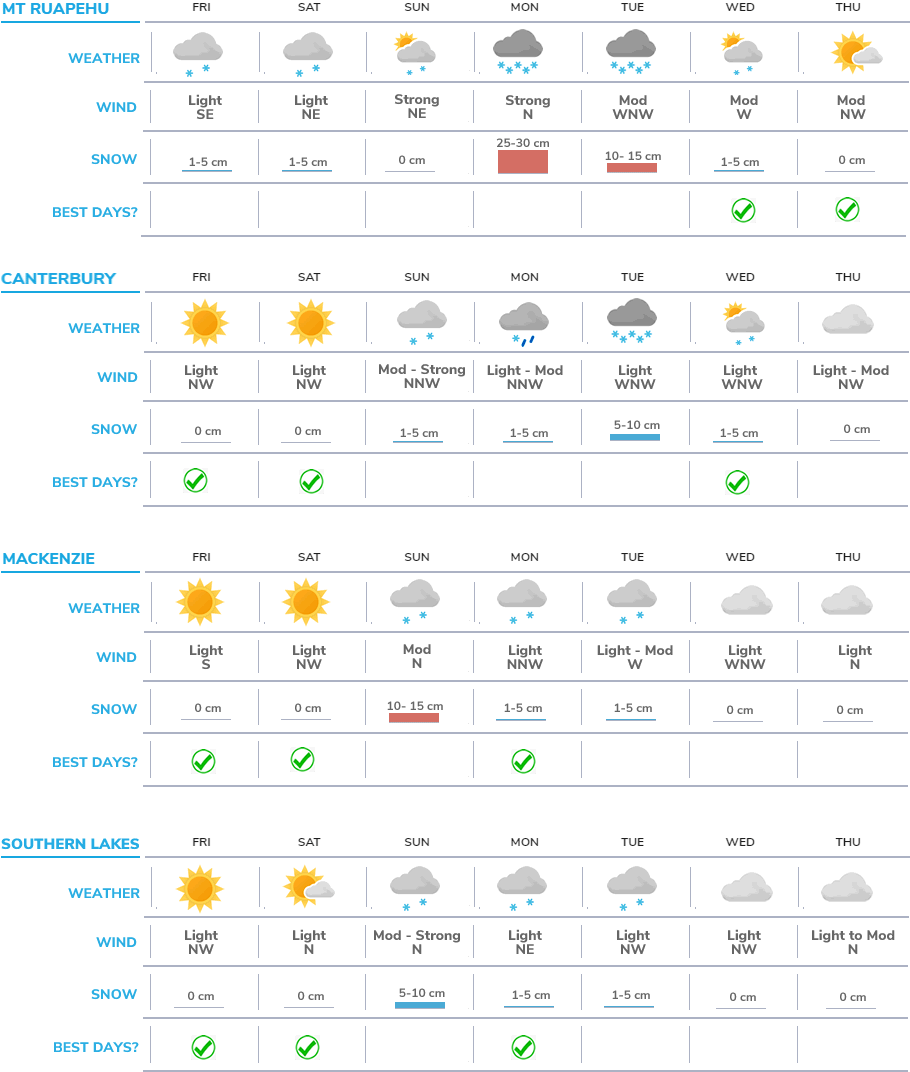 A Good Cause
You might have seen Lockie on TV, or in the socials, last year he skied 40 days at Cardrona to raise money for the Cancer Society.
This year his big adventure is to ski all the NZ ski fields south to north to raise money for the Cancer Society and showcase how cool our NZ ski fields are. You can follow his adventure on Facebook, or donate to his very worthwhile cause. Well done Lockie!