It's been a funny ol' season so far. Was it going to happen, maybe it will happen, it's going to happen (!), where's the snow, it's school holidays, now there's ton of people, where did they all come from?
And of course it was all predictable, but actually, it wasn't. Just a few weeks ago the industry still wasn't sure how "open" it would be, and they had no idea of demand. But to be fair, maybe they could have had an inkling? We reached Level One and were granted freedom (!), no one could travel internationally, Ruapehu had little snow, and there was pent up demand to "do something" … So, in some respects maybe it wasn't rocket science that the southern areas were swamped. But, that's hindsight.
And with that hindsight, Bridget Legnavsky, GM Cardrona & Treble Cone published an awesome open letter, explaining what they went through. Just amazing transparency.
For many reasons it's also been a challenging season so far for Ruapehu Alpine Lifts (RAL) and today they finally released their parking booking system. You might recall, they announced it several weeks ago "due to customer feedback", but then a bunch of other customers complained so loudly that they changed the system. You have to say, kudos for listening.
The new system is for bookings on the 10 busiest weekends of the season from 25th July - 27th September 2020 and spaces can be booked the Wednesday prior to your visit at either 10am or 6pm. Half of the spaces will be released at each time.
Raw and Real Snow Reports indicated this morning that Turoa was sold out in 2 minutes, Whakapapa in 3, after the 10am release. Tonight that was somewhat different with Turoa not selling out until around 6.37pm, 37 minutes after opening, and as of 10pm, Whakapapa has openings both days, and Turoa on Sunday. Ironically with Sunday looking the better day to ski.
Tonight we booked and cancelled a few parks, here's some of the (current) quirks:
Their website remains a challenge, you have to go to "Reports and Cams" (rather than buy) to book a car park, go figure …
Overall the system seems relatively quick and simple to use
You can book consecutive days at the same area in a single transaction
You can't book consecutive days at different areas, you have to book individually
You can also book both sides of the mountains, on the same day, with the same licence plate, but with a different email address. That's not good
The cancellation process is simple and immediate
But, it's likely many will pre-book and then no-show or cancel at the last minute because there's no penalty. If you have

not arrived within 45 minutes of your booking time, your booking will be cancelled and parking space released

And the last "but" ... there appears to be no waiting list, so it might be just luck of the draw if you get one of the cancelled parks.

It's not entirely clear what happens if you don't get a park? Given Whakapapa Village is now limited to a maximum of 3 hours parking the only option is the Park and Ride at National Park and you'll definitely need to book the $35ish shuttle in advance, allowing around an hour to get there.
There is however still a fundamental flaw in the system, it doesn't encourage carpooling (yet) so really the problem has just been moved from "on the day" to "online". It's not encouraging people to change their behaviour.
It's pretty obvious many skiers don't agree with this system, yet many also have struggled with the crowds both north and south. So let's be honest here, if you ski weekends or holidays, and it's forecast to be a decent day, especially if there's fresh snow, it's going to be very busy. But as Cardrona said "Skier numbers on Friday were still significantly less than peak days in 2019, but we had a record number of cars on the mountain". Many international visitors take buses or shuttles, Kiwis drive.
So, like it or not, we may have to get used to this as the new normal. As other ski areas have also said, this season they have more cars, with fewer passengers. That has to change, so what RAL and DoC are doing is ultimately good, it's starting the conversation around how we get to, and up, our mountains. 20 years ago or less, most mountains still had road tolls. We think they are worth revisiting, as it might help change peoples behaviour and get more people in fewer cars. Here's our ideas on how to reduce your parking and lift queue stress!
We are concerned, as you might be, that this removes the spontaneity of skiing, both for loyal customers responding to weather, but more importantly new entrants to the sport who want to give it a go and "have no idea". Whether you love or hate RAL, they are looking for solutions and we applaud them for that.
One thing is certain, the industry will be watching this development very closely, as will D0C no doubt, given the need to regulate traffic and access to ski areas and/or national parks.
Turoa at 6.30pm, 30 minutes after opening ...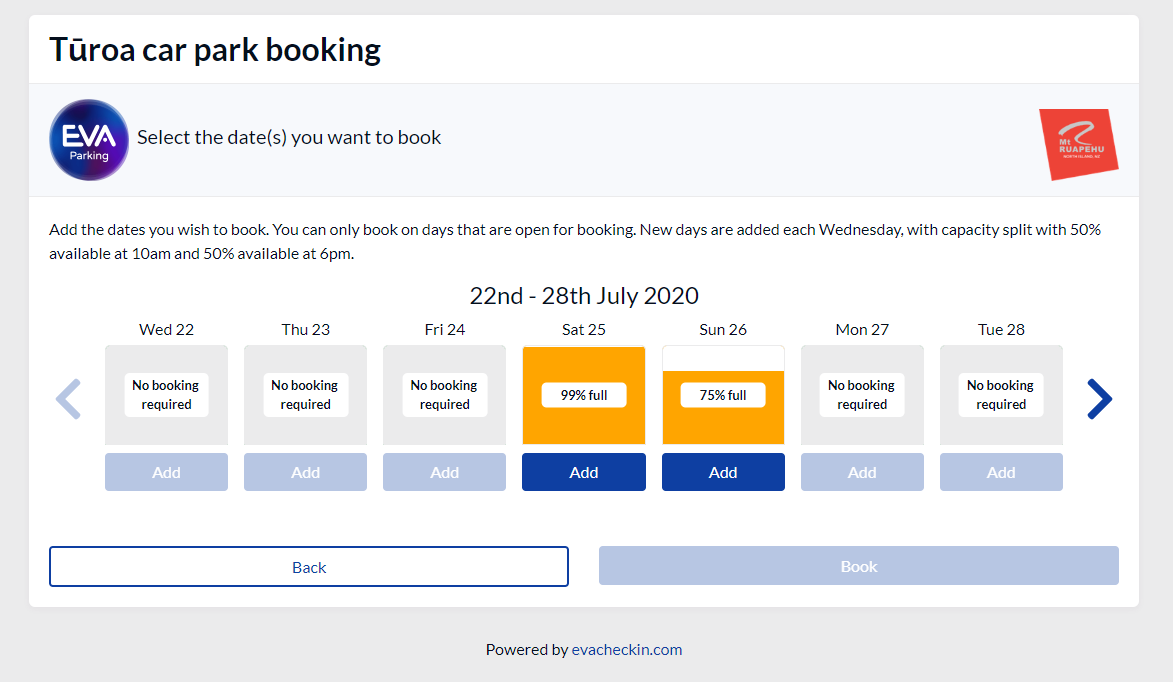 Turoa at 6.37pm, booked on Saturday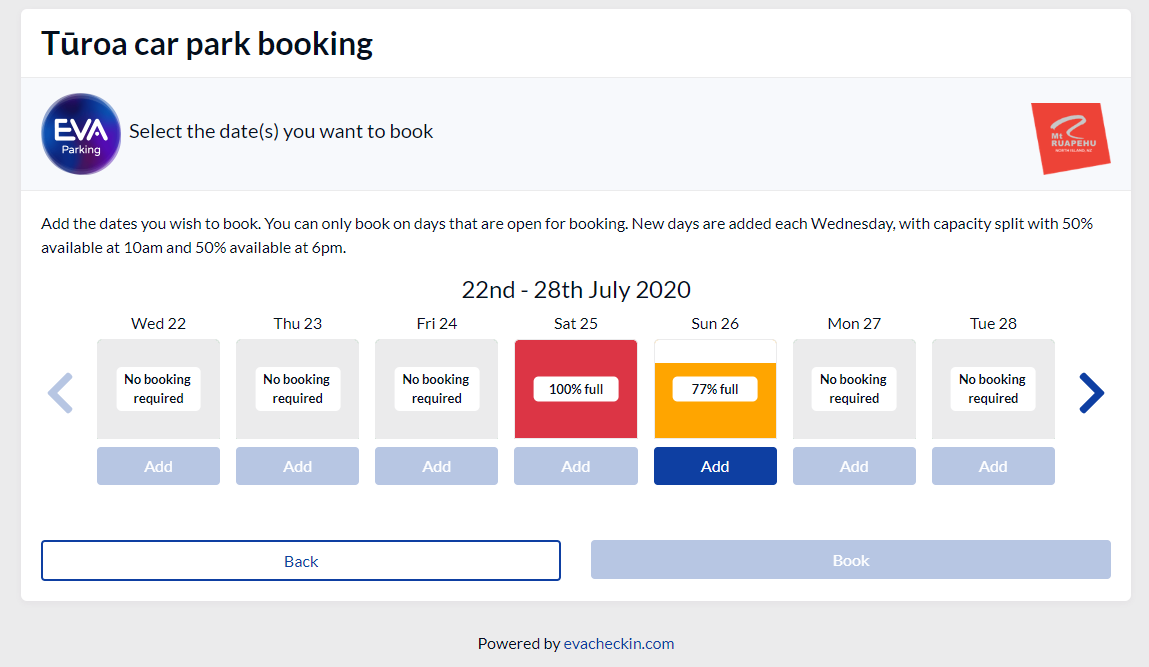 Turoa at 10.05pm, still available Sunday
Whakapapa at 10.52pm, still not booked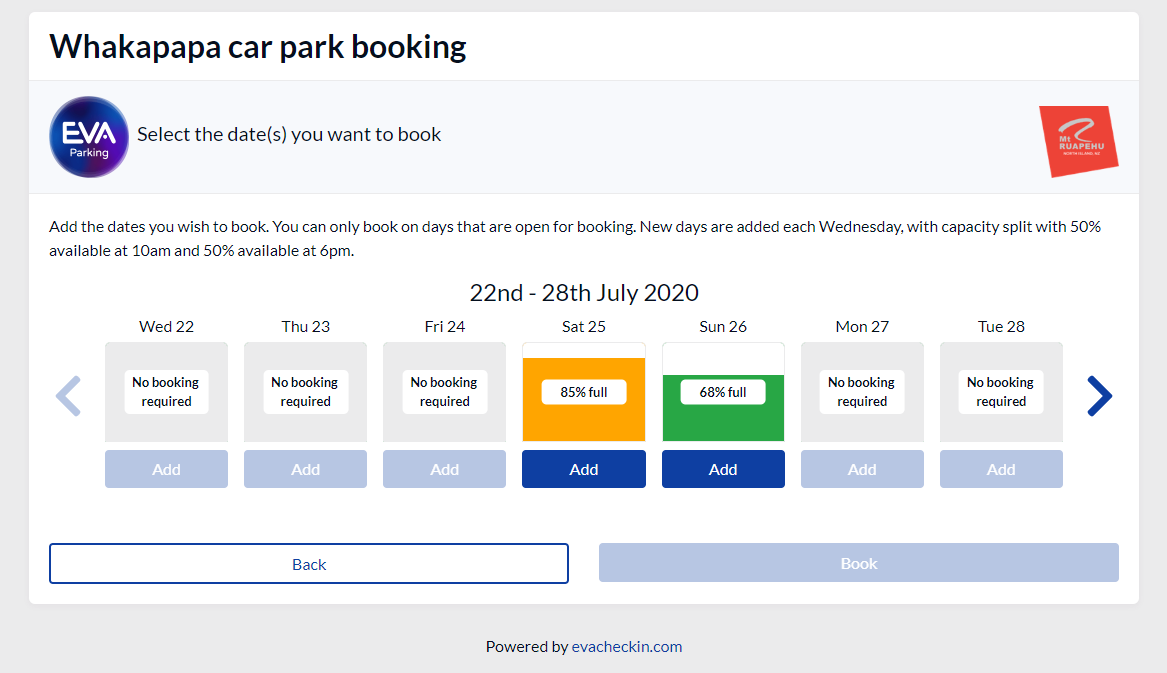 Make sure you "Save Changes" when deleting!